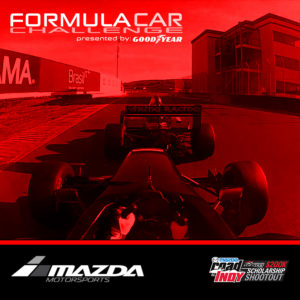 It was announced today that Mazda Motorsports will be offering West Coast Formula Car Challenge competitors a total of $11,250 in cash contingency awards for the 2018 season. Mazda may also provide an opportunity to vie for the Mazda Road to Indy scholarship valued at $200,000 to a 2018 FCC Champion.
"Our series and drivers really appreciate that Mazda recognizes the FCC presented by Goodyear as being worthy of Mazda Motorsports support," stated Series Official Mark Milazzo. "We are always impressed with the amount of investment that Mazda makes in the sport we all love. Many of our racers, mechanics, and officials drive Mazdas as their everyday vehicles. It's been really great to watch some of our alumni making it to the top levels of motorsports with assistance from Mazda." 2012 Formula Car Challenge champion Kyle Kaiser secured the top rung of the Mazda Road to Indy in 2017 by winning the Indy Lights Championship.
Five series in North America are on the radar for at-large entry tickets to the Shootout, issued at the discretion of Mazda. The Formula Car Challenge presented by Goodyear is one of those preferred series. Mazda has invited 12 Formula Car Challenge drivers to attend the Road to 24 Shootout since 2012, and two FCC champions to the Mazda Road to Indy Shootouts since the MRTI Shootout program started in 2016.
About Mazda, Mazda Motorsports: Mazda Motorsports boasts the most comprehensive auto racing development ladder system of any auto manufacturer in the world. The Mazda Road to 24 program offers a number of scholarships to advance drivers up the sports car racing ladder, beginning with the Global MX-5 Cup series and culminating with the Mazda Prototype team. The Mazda Road to Indy is a similar program that includes Mazda-powered categories of USF2000, Pro Mazda and Indy Lights. In grassroots road racing, more Mazdas race on any given weekend in North America than any other manufacturer. Mazda is also the title sponsor of the renowned Mazda Raceway Laguna Seca in Monterey, Calif. Follow all of the latest news at MazdaMotorsports.com, @MazdaRacing on Twitter, and MazdaMotorsports on Instagram and Facebook.